Muhdo DNA Test Review – Are Muhdo DNA Health Tests Reliable?
With the use of the latest technology, one can know the deep details of their health that weren't possible before. Muhdo offers wonderful DNA tests that give health insight like no one else. Their tests are comprehensive and accurate. In this Muhdo DNA test review, you will know more about their DNA health tests and how they can change your life.
Who is Muhdo?
Muhdo is a team of experts who offer high-quality DNA testing services along with detailed analysis. Their team contains doctors, professors, athletes, lab scientists, and everyone who is the best in their fields.
With the Muhdo tests, you gain complete control of your genetic health. Not only that, but you also get on-call with a doctor after getting your results so you can know the analysis better.
Visit Site: www.muhdo.com
Why Should I Choose Muhdo?
If you are a health enthusiast or an athlete then you should choose Muhdo to know about your health in depth. There are many reasons k to select Muhdo. First of all, their DNA transform test is one of its kind and previously, not available for everyone, but now it is. After that, prices come, their DNA tests are highly affordable and truly made for the general public.
Furthermore, they have a team of experts who know their job well. They value you even after you get your results and guide you wherever needed. Muhdo is trusted by many famous names as well. They have been featured in Forbes, DailyMail, BBC radio, HR, Metro, etc.
Who Should go for Muhdo DNA Tests?
Genetic testing is done for various reasons. Everyone has a reason to go for it. Mainly, health enthusiasts and sportsmen go for genetic testing to improve their health and sports. They want these tests to know more about their bodies and to make smart choices. But there are other reasons as well; like laymen can know where their health stands and what can be done to improve it.
What Are They Selling at Muhdo.com?
At Muhdo, you get different types of DNA tests to know about your health in detail. With these tests, you can see your health from a different perspective. You can know where you stand.
With the Muhdo tests, you can know about over 1000 biogenetic markers related to your health and fitness. They also tell about diet and nutrition. Not only your physical responses, but you can also know your psychological behaviors.
What Muhdo DNA Test Mainly?
Muhdo checks over 1,000 biogenetic markers of fitness and health including:
Exercise and Fitness: This information helps you to improve your fitness training plans and perks up your knowledge for stamina, power, flexibility, muscle hypertrophy, oxygen use, lactate threshold, ATP recovery rate, the power to weight ratio, lean body mass, and so much more.
Nutrition and Diet: With this knowledge, you can get a special diet and how your body responds to carbohydrates, unsaturated fats, total fats, protein, exercise, and calorie restriction. With these tests, you can know your calorie needs and manage your weight loss and obesity risks.
Wellbeing and Health: Know about your health deeply and understand whether you are prone to developing deficiencies related to vitamins A, B6, B9, B12, and D along with minerals like selenium and magnesium. Their DNA tests also tell about bone mineral density and what are your body's calcium requirements. Further, it informs about the supplement needs related to collagen formation and inflammation.
Psychology: With this information, you can know about your response towards dopamine which influences cognition, motivation, and behavior.
Best-Selling DNA at Muhdo.com:
Muhdo offers three amazing DNA tests and their descriptions are as follow:
Muhdo claims DNA Lite to be a gateway to your genetic health. It is a highly economical DNA test kit that provides important health information. With this test, you know how your body works and what you need to be healthy. This test tells you which vitamins you need, or what you need to do to stay healthy. It gives a health plan that is unique for your health.
This test helps you to decide your long-term health goals. The expert recommendation on your unique genetic pattern can help you gain the best of the results. You can know about your caffeine sensitivity, genetic obesity risk, genetic type 2 diabetic risk, protein response, carbohydrate response, snacking risk, fat distribution, lactose intolerance risk, metabolic rate, all vitamin deficiencies, creatine benefit, BCAAs benefit, and so much more.
For the athletes, it tells almost everything important like muscle power, muscle stamina, O2 usage, recovery rate, muscle mass, injury risk, inflammation response, lean body mass, and many other important parameters. Though this test appears to be basic it also covers many things in great depth.
Muhdo DNA Health kit covers more genetic markers than the previously mentioned kit. It gives more information and provides extra health insights to make your daily life better.
With this test, you will have your personalized workout planner along with the unique meal guide having hundreds of recipes. The given report contains carbohydrate response, protein response, snacking risk, caffeine sensitivity, genetic obesity risk, genetic infection risk, muscle power, anaerobic threshold, injury risk, lean body mass, and so much more.
Along with knowing your results, the detailed analysis with the personalized manual of day-to-day life is highly useful. It gives you a new way to live a healthy and prosperous life.
It is a complete health solution that Muhdo offers. It is the first DNA analysis of the world powered by epigenetic science. The epigenetic analysis is used to know more about you that no one else offers. It is the deepest knowledge that is provided by their award-winning scientists. This DNA outlook gives the details of your biological age, hearing age, eye age, memory age, and inflammation. Epigenetic testing was previously only available to high-profile athletes and other people; it is the first time that the general public can take its benefits. Along with these, you will also get core DNA reports in important areas like diet, health, vitamins, physical, nutrition, and supplement response along with extended reports on immunity, gut health, sleep, mental health, and many others.
How Do I Take Muhdo DNA Test?
Taking the DNA sample is very easy. You just have to take your saliva sample by spitting it into the tube present in the kit. Your DNA is present in the saliva that tells about your genetic markup. Your sample will be tested in the labs and by the experts to provide you with results. The DNA kit has all the information written on the instruction card.
>>> Click Here to Buy Muhdo DNA Test Kit!
Muhdo FAQs:
What countries do they ship to?
No matter where you live in the world, you can take their services. The customers from Germany and the UK have the extra advantage of free postage on the return envelope. But for other customers worldwide, they must use a courier service to return the sample to the lab. The address is already printed on the return envelope to make sure it reaches the correct place. What you pay to the courier service is redeemable up to $10. You just have to send the courier service payment receipt to get the refund.
Why they prefer saliva samples over blood samples?
There are two reasons for selecting the saliva sample:
Blood provides the best results when drew recently. As it ages, the efficiency decreases. Saliva provides the same insight as the blood but lasts longer.
Why puncture your skin when the sample can be collected easily from the non-invasive method? Taking the saliva sample is easy and simple.
What to find in the Muhdo DNA Test Kit?
You will find the following things in the Muhdo DNA Test Kit:
A small tube of plastic to take your sample having your kit ID printed on it
A plastic funnel to place on the plastic tube to make the whole process easy; with a wide fennel mouth you can easily collect your saliva in the tube
An instruction card with the details of how to collect your sample and how to proceed after that
How to know my Muhdo DNA test kit ID?
Your kit ID is printed on the side of the small tube you receive for saliva collection. You need to scan this ID using the ID scanner of their application, or you have to add it manually when you are registering using the app. You must do that before sending your sample because your sample will not be processed if your kit ID is not registered. You may have to give your sample again to know your results.
How long does it take to get Muhdo DNA test results?
From collecting the sample to getting the final results, it can take up to 3-4 weeks. Once you register with them, you will get in the loop and will be informed about the sample receipt and results automatically.
For the epigenetic analysis kit, the result duration may increase. The analysis and research of the epigenetic markers consume extra time. Your epigenetic results can take longer than other tests. Your biological age and other markers are made available within 4-6 weeks after getting your DNA results.
How the clients are supported after getting the Mudho DNA test results?
Aftercare is very important to them. After getting the results, every client gets a special phone or Skype consultation. This helps the clients to know their results better. They know what their genetics tell about them and how to get the benefit from their surroundings. For that, their mobile application also remains updated all the time with the latest research and science material.
Is it possible to upgrade the DNA profile to the Biological Age and Epigenetic Profile?
Yes, it is possible to upgrade the DNA profile to the Biological Age and Epigenetic Profile. You can upgrade it once you have a DNA profiling kit. You have to contact their support team at info@muhdo.com to know about the cost and the method.
What will the Mudho DNA profile be like?
The results of your DNA will be made available on the new Muhdo mobile app. The app explainer video is present on the website to tell the details.
How to define DNA and genes?
Gene is the building block of life. Every gene is composed of DNA. Like a working manual, the DNA gives information about the building and working of different parts of the body. DNA has four different kinds of nucleotides called A, C, G, and T.
The different positions of nucleotides in the DNA chain tell about the body functions. These differences are known as single nucleotides known as SNPs. These are the major differences that are seen in genetic research and testing.
How safe is my information?
The genetic information of the customers is triple locked. In the database, the customers are anonymous as the first line of security. Every customer has a different ID number. Only that number can show the customer their data on their private mobile application.
As the second line of defense, the data of the customer is encrypted. So, at this point, the customer's information becomes anonymous as well as encrypted. On the third level, the genetic data is stored on secure AWS servers. Among all these, they are compliant with the high standards of the European General Data Protection Regulations (GDPR).
A Few Muhdo DNA Health Reviews from Real Customers:
Here are some Muhdo customer reviews from other sites:
Eloise B. – a verified buyer – from www.trustpilot.com says:
"Highly recommend! It is amazing to know my training potential. Much more information provided than I expected, not only on reps/ exercises that will benefit me etc, also with support on supplements tailored to what my body needs..."
Jon Akzar – a verified buyer says:
"Would I recommend this service? Definitely. If you need some focus in your exercise regime, or just some guidance on whether what you're doing is best for you, then Muhdo might just be right for you…"
Here is another testimonial from a Muhdo Health customer:
>>> Click Here to Find More Information!
Quick Muhdo.com Reviews:
Website Layout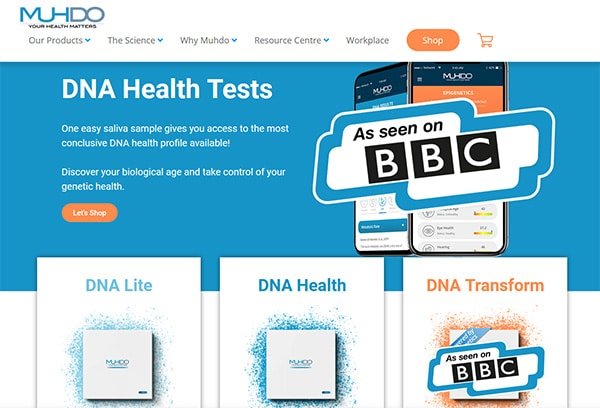 Their official website (https://muhdo.com/) is very user-friendly. Every item in the menu bar has a drop-down option. Products, science, resources, and everything is placed separately for easy and quick access. You can reach their contact us page and FAQs by visiting the bottom of their home page.
Shopping Processing
Using the 'Shop' button, you can easily compare their three major DNA tests. After that, you can click on the Buy Now button of the product you want to purchase and proceed to checkout. Then, add your shipping and billing details and have your kit at your doorstep with the return envelope.
Order & Payment
You can pay for the kit using your PayPal account or credit card. You can pay via credit card powered by Visa, MasterCard, Maestro, and American Express. Your information is highly secured. Your order will reach your place within a day or two after being processed.
Customer Service
Customers are the top-most priority at muhdo.com and you will get the best customer service for sure. They have a dedicated customer service team that is ready to guide you at every single step. From selecting the test to placing the order, they are with you at every step.
Muhdo Health DNA Tests Review – Bottom Line
Are Muhdo Health DNA Tests Accurate?
Yes, their DNA testing is reliable and they take special care from data collection to providing the answers. They have crossed checked their results by sending similar data to different labs to perform genetic testing. Their DNA tests have 99.9% accuracy, which is a gold standard.
How to interpret the data is different from one lab to another, and here, their experience comes in handy. Their team includes professionals of sports, nutrition, health, and testing labs; all these experts come up with the perfect conclusions.
What We Like About Muhdo Epigenetics DNA Tests:
Many things make Muhdo stand out from others. They have composed a useful blend of exercises, nutritional, healthy recipes, and recovery guidance along with genetic testing. This means, when they get your genetic profile, they set your genetic markup using their huge data. They provide you the recipes, guidance, and exercises that are unique for you and selected using your genetic profile.
The report they provide is the most advanced and detailed as compared to others. They report on 1,000 biogenetic markers. Not only that, their propriety algorithm comprised of the most recent scientific knowledge. They offer four different health modes to select from on their mobile app:
Health and Wellbeing: To a healthy life
Fitness and Endurance: To be fit at a faster rate
Muscle Builder: To shape and power your body
Weight loss: The best diet to be in shape
You can select between modes to set your goal and change your dashboard accordingly.
Your results will have Health Insight reports as well like sleep, stress, and anti-aging.
At Muhdo, everything is transparent with no extra amount. Their health app can be your health partner for life as it will get updated content for free. You can also take expert advice on any topic.
Should I Buy Muhdo Health DNA Tests?
If you want to add value to your life then the Muhdo Health DNA tests can be of great help. They can completely transform your life and give you every piece of information that you need to know about yourself. From your dietary report to your biological age, you can have the details of everything.
Now know about your health and save side by side. You can get a special discount on your Muhdo purchase by using our Muhdo DNA test coupon code. It's a healthy and economical offer that everyone can take the benefit from.
Free Muhdo Health DNA Test Coupon Code:
---
Muhdo – Epigenetics DNA Test & DNA Health Tests
Price: from £59.
Intolerance Lab Coupon: Expried. Update Soon!

---
How to Redeem Muhdo Coupon Code?
To redeem a Muhdo coupon code to your order, please click on our Muhdo promo code to active the code and take advantage of the discount during checkout.
(Muhdo Health DNA Test Review)
Category: DNA Tests